Flexible Storage Options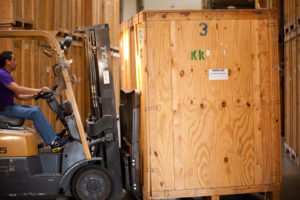 Renovations can be a pain with having to move items out of the home for various periods of time, just to move them right back in when work is complete. For these reasons, customers find our easy storage options ideal for short-term solutions.
Storage units are great bargains for what they provide. They provide a safe space to keep all of your stuff so that you can deal with all of the hustle and bustle of moving. Storage spaces can become necessities when moving dates don't line up.
Tips and guidelines for when you need storage for moving:
Think about the size you will need – Overpaying can quickly eat into the budget you've set aside for moving. Consider using any of the space estimators you can find online to figure out how big of a self-storage unit you'll need.
Climate control isn't a gimmick but is a necessity – Many movers offer climate-controlled storage spaces. This will prove invaluable if storing electronics, artwork, photos or any sentimental things. You will need to take a serious look at whether you need a climate controlled space of not because temperature changes can mess with furniture and mildew upholstery. Look at factors like the duration, time of year and what you are storing.
Try to think about what you need and what you don't need – There are plenty of things that sit around in homes that aren't used on a daily basis. These are the things that should be packed and stored in the self-storage unit. Examples of things to store are clothes that aren't in season, duplicate pots and pans and aesthetically pleasing stuff. All of this can be added later, and your quality of life won't suffer significantly without it for a little while.
Ask plenty of questions – Ask, ask, ask and ask some more. Don't be worried about annoying the moving representative with your questions. It is your money that you are spending at the end of the day. It is the representative's job to make sure that you understand the entire process. In the same vein, be kind to the representatives because they will then be more inclined share some tips with you that might prove invaluable.
Look over all of the lease options – Simply put, if you're packing things away for a long time, it is better to go for a longer lease than a shorter one. The inverse is true too. Talk to the representative assigned to you about your storage needs. Together, you will be able to arrive at a solution that works best for you. Again, being kind to the representative will make him/her want to give you the best service he/she possibly can.
If you are at a loss of what to do when it comes to storage, consider calling or emailing 1st Class Moving and Storage. There's a reason that 95% of their business comes from customer referrals. Yes, they're that good.
Moving to or out of the Central Florida | Orlando area? Get a FREE Moving Quote! Call 800-297-6683.