When you move with 1st Class,
we make your move as stress-free as possible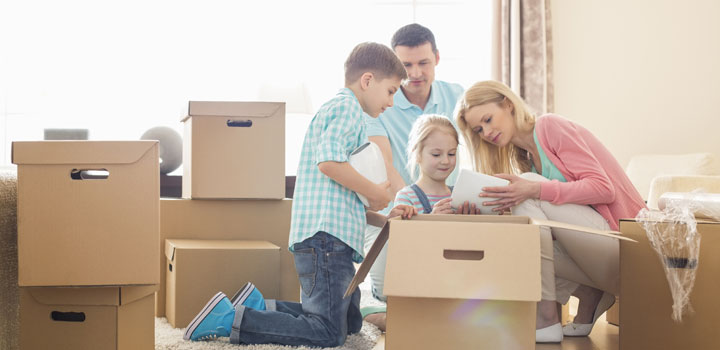 We provide all of the resources and products we can to make your move as stress-free as possible. No matter what we do, there's always a little bit of stress, especially if you're moving with young children. Here are some tips to help you make the process easier for them:
Moving with Children
It's important that you discuss the move with the whole family in advance. Focus on why, when, how, and where you'll be moving. Your kids need to know that it's a positive event for everyone. Also, ask them how they feel about it, or if they have any questions. It's important they know that you care about their thoughts and feelings.
It's also good to keep your kids involved in the process. Have them pack some of their own belongings and label their own boxes. Depending on their age, you can have them help plan the trip by choosing the route using a map or online directions. As you're packing, look for a special item or toy and keep that out so your kids have something to hold on to during the trip and the unpacking process at the new home.
The time leading up to the move is going to be a tense time for the kids. It's important that you help eliminate fear as much as you can. They might be scared of missing their friends, so let them spend as much time as possible with them. Also, try to give them an idea of what their new home and neighborhood will be like. If it's close enough, take the kids to your new home so there's no mystery. If your future neighbors have kids their age, see if you can introduce them so they know there are new friends waiting for them. If that can't be done, gather as much information as you can to share with your kids.
On moving day, a lot will be happening pretty quickly. For their safety, introduce your kids to the moving team and remind them to stay clear of them so they can do their job. If they feel tense, sad, or even scared, remind them that this is a good thing for the family.
Once the move is done, take time out to celebrate! Remember that moving is stressful on adults, so moving for them will be tougher. Let them know they did a great job and how you couldn't have done it without them. Go out to dinner at their favorite type of restaurant and enjoy getting the hard part done.
Once you're moved in, get them acclimated to their new home. Start with their new rooms. Have them pick out their own decorations or paint color. If they're old enough, have them help with the decorating. This will make the new home more theirs. Also, look into activities in your new area that they might enjoy, like sports or clubs and classes that appeal to their interests. They'll meet some potential new friends and be closer to feeling more at home.
Moving with Babies
Recent research shows that approximately 20 percent of Americans who move are between birth and the age of four. Make sure that your young ones are ready so the move goes smoothly for them too.
As long as you keep their routines and they are comfortable, they should be alright. Infants are usually unaffected as long as it's business as usual for them. If you have a toddler, let them know that the whole family is moving so they don't feel like they'll be left behind. Outside of that, they don't need to know timelines; they won't really recognize one day to the next.
It's also a good idea to plan stops along the way. Schedule times to get out of the car, stretch your legs, and let your little ones move around too. This also helps schedule feedings, keeping their routines as close to normal as possible. If you're driving a long distance, more than 10-12 hours, spend a night in a hotel. This might sound like an option, but it really isn't. A good night's sleep is key to your baby's happiness, and let's face it, it's good for you too. Make arrangements before your move, and request a crib or pack a portable Pack-n-Play.
When you pack for your trip, be sure you have everything your child will need:
Safety-approved car seat.
Favorite toys or stuffed animals.
Easy-to-prepare food, such as dry formula that does not need to be refrigerated.
Disposable diapers and a diaper bag.
Plenty of bottled water, as sudden changes in the water supply can cause some children, and some adults, to have an upset stomach.
Pillows and blankets.
Baby bottles with plastic disposable throwaway liners, nipples and pacifiers.
Baby food, formula, water, fruit juice and a can opener.
Pre-moistened towelettes and paper towels, which are handy for kids and adults alike.
Baby toiletries, such as wipes, lotion, powder, cotton balls, etc…
First-Aid kit with a thermometer, favorite character bandages, baby pain reliever and a small hot water bottle, which also can be used as an ice bag, and other medications your pediatrician recommends.
Collapsible stroller.
On moving day, you definitely want to stress safety for your child and the moving crew. Choose a room or area of the house to keep your child so he or she doesn't get in the way of the movers. Also, it's a good idea to get help during the move-out and move-in process. Consider a babysitter to keep an eye on your child. If you're in a new place and don't know any babysitters, reach out to family members like grandparents (grandparents love hanging out with their small grandchildren!). If that's not a possibility either, have one parent watch the child while the other keeps up with the movers.
Most importantly, be patient. All parents know that patience is a virtue when raising young kids, but at a time when things are moving quickly, you might see some different behavior than usual. If you can give your child some extra attention, it will be best for him or her.
Because 1st Class cares about your move, we stress how important it is to make it as stress-free as possible for your whole family. Our professional team is knowledgeable and trained so you can focus on taking care of your kids during a move. Let us help you improve the process.