Long-distance moving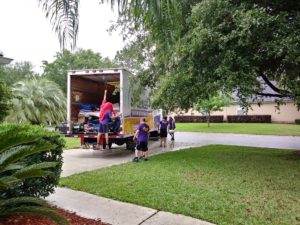 Whether it is to set up a new home or to expand your business to a new city, shifting to a new location is always exciting. It gives life a fresh start, as it extends an opportunity to meet new people and have new life experiences. But many people are afraid of long-distance moving as they believe it brings in a unique set of headaches!
Why is a long-distance move challenging for some?
Inter-state moves are not as simple a task as shifting to a town a few miles away. It requires some serious planning and research. Though it is possible to arrange for a smooth long-distance move, some people struggle with it. The main problem lies in the choice of the moving company.
Travel and the responsibility of arranging everything for a long-distance move by itself is an exhausting experience. Put an inefficient company in charge of your shifting and you are done for. Once you pack up all your belongings and send it across, you expect them to arrive by a certain date. But when delivery takes more time than expected, it can cause quite a lot of inconvenience. What use is it to step into your new house to find that none of the things that are required to make it habitable have arrived?
Some movers may dispatch your belongings as separate shipments. Half of your things may get delivered and then you would find yourself in a limbo waiting for the next set to arrive. Many a times, you may not even be able to track where your belongings have reached. Such a situation can be particularly stressful as you don't even have a timeline to operate upon. You might have a number of things planned for your life in the new city or time-bound business ideas for your new office. It doesn't help when the wait for your things to arrive stretch on indefinitely!
Add to these troubles the financial implications of such a predicament. Without your belongings in place, how can you stay at your new home or start work at the new office? The resulting hotel stay or delay in business operations will cost a precious penny.
To avoid all such troubles, visit https://movingwithclass.com and book the best coast-to-coast movers in Central Florida, Orlando for both residential and commercial requirements.
Why is a good expedited long-distance service necessary?
Generally, for expedited moves, a single long-haul vehicle is used for moving all your belongings with no other customer sharing the space. There is no transfer of items from one vehicle to another either. The very same moving crew that loaded your belongings delivers all your belongings at the destination in the very same truck. In this way, there is no unnecessary loss of time in transit. Also, customers will have the additional facility of tracking their shipment.
By opting for expedited long-distance service from a reputed firm, your belongings are guaranteed to reach their destination within a few days, as promised by the moving company. The assured on-time delivery makes your long-distance move simple and pleasant. It gives you the liberty to plan your move accordingly so that your things arrive where you need them and when you need them!
Moving to or out of the Central, South or Northern Florida | Orlando area? Get a FREE Moving Quote! Call 800-297-6683.