Moving valuable items such as art, antiques, electronics, wine, and musical instruments or more?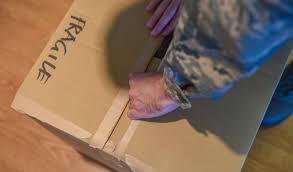 Make sure your items arrive safe, in a climate-controlled truck and in excellent condition with our white glove moving services.
The service is named white glove delivery because our team of expert movers 'put on their white gloves' figuratively speaking while handling your furniture and other items with care. We pay special attention to fragile items and devise solutions for properly packing paintings, antiques, glass items and expensive furniture.
What does white glove care include?
When you opt for white glove delivery, the carrier agents must unload and place the items in the rooms you tell them to. It includes unpacking, removal or disposal of the materials used in packing as well as transporting the order up or down a flight of stairs. How many flights of stairs the team transports the items up or down is different with each company and may or may not cost more.
Setup time is usually limited to a maximum of thirty minutes with removal of debris included.
Different companies handle white glove care differently. White glove delivery services commonly include –
Threshold – Threshold consists of the drop-off team taking extra care with your valuables but only to the extent of crossing your front door. Once they are inside, they put the packages down and are finished with their service.
Room-of-choice – This is what is most commonly referred to as white glove delivery. If you fancy yourself great at putting things together but don't want to blow your back out lifting heavy packages. Consider opting for a room of choice service. You can expect the movers to deliver the packages to specific rooms even if they are up or down a flight of stairs. After placing the packages in specific rooms, the movers will depart.
Deluxe – Deluxe refers to top of the line service. It calls upon every factor involved to make moving as easy for the customer as possible. These include full setups as well as removal of all of the packaging material and clutter that has arrived with the package. Deluxe is usually a word thrown around when customers are willing to fork over a lot of money because they don't want to or can't deal with the hassle of moving.
At 1st Class Moving and Storage in Central Florida more than 95% of our business comes from word of mouth or business referrals which means that almost all of our customers are more than satisfied with their service. We come highly recommended by many because of the level of quality service we strive to provide for each and every customer.
Consider contacting 1st Class Moving and Storage for a quote if you're interested, we will answer any questions you have.
Moving to or out of the Central Florida | Orlando area? Get a FREE Moving Quote! Call 800-297-6683.