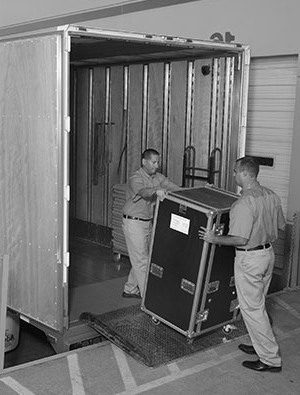 Trade shows and professional exhibitions offer an ideal way to showcase your products and equipment and connect with potential clients and industry professionals. In other words, they are a great way to grow and expand your business. But let's face it, whether you participate once a year or once a month, getting your equipment, displays, and products to and from each trade show safely and securely can be challenging and sometimes downright nerve-wracking.
As in so many elements of your business, working with the right specialists is key to getting to each and every trade show on time and intact, while minimizing your stress and worry. Establishing a relationship with a qualified, professional, and experienced moving and storage company, one that understands the unique requirements in moving and shipping displays and equipment, can take a lot of the stress out of the whole process. This is especially true for any company whose product displays include large, delicate, and/or expensive equipment.    
What To Look For in a Moving Specialist for Trade Shows
Here are a few things you should look for when choosing a moving specialist to get your displays and equipment to the next big show:
Site-to-site service: full-service pick-up, shipping, and delivery
On-site support on the show floor and marshalling yards during move-in and move-out periods
Relationships with local drayage companies as needed
Expert packaging, including custom crating, boxing, and wrapping
Flexible shipping options, from local move to coast-to-coast shipping
Air-ride vans with climate control and cargo control systems
24-hour inventory tracking system
A solid record of experience transporting priceless equipment and delicate displays
Trade Show and Exhibition Services from 1st Class Moving and Storage
So, why choose 1st Class Moving and Storage to get you to your next trade show or exhibition? Of course we fulfill all the requirements listed above. But we also offer something more: a personal relationship that you just won't get from a national company. Our goal is to understand the unique demands of your business and customize our services to meet those demands. We ensure:
Timeliness: our top priority is getting your trade show displays where you need them, when you need them, every time.
Customized white-glove service: to ensure that all of your expensive and delicate equipment and displays arrive at each trade show ready to go.
Detailed itemization: to ensure that nothing—from the largest equipment to the smallest part—gets lost or misplaced along the way.
Personalized account coordinator: so you don't waste valuable time trying to navigate a lengthy and annoying automated phone system when you need immediate help!
Every trade show and every exhibition is your opportunity to make a great impression and expand your business. So it's critical to work with a moving company—like 1st Class Moving and Storage—that is as dedicated to the success of your business as you are. So next time you need to get to a trade show, give us a call and let us do the heavy lifting for you!
Contact 1st Class Moving and Storage for All Your Moving and Storage Needs
1st Class Moving and Storage is a family-owned and -operated, white-glove moving and storage service with offices in Baltimore, MD and Orlando, FL. Our goal is to help you get wherever and whenever you need your life to be, with class! We ship locally or coast-to-coast, and offer both commercial and residential services.


Moving to or out of the Central Florida | Orlando area? Get a FREE Moving Quote! Call 800-297-6683. Moving services locally and across the United States.