Furniture Assemble And Disassemble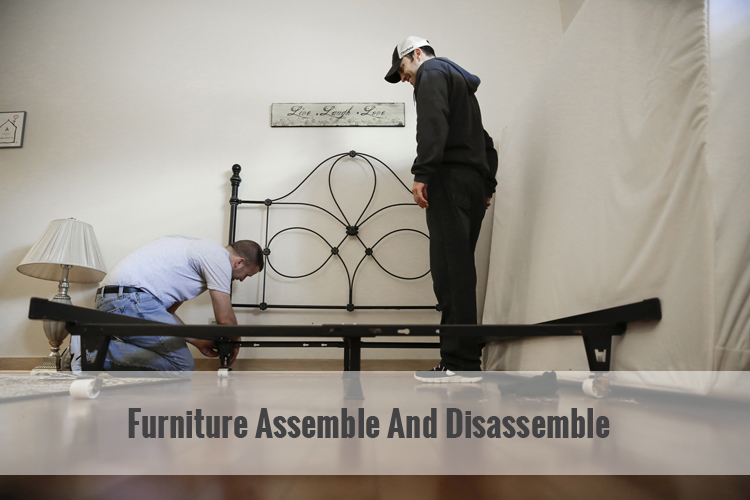 Assembling and disassembling furniture can be tedious work that usually requires many hours of labor. This is not something that you should worry about when you're moving to a new house. Assembling and disassembling furniture, however tedious and tiresome, is also an important and integral part of moving houses. You can't simply leave behind all your furniture because you don't feel like packing it by yourself! This is where First Class Moving and Storage comes to help.
Wouldn't it just be amazing if your moving company could just do all the assembly and disassembly for you? It would be like a dream come true right? If only the movers could do this tedious work that you're just not willing to do. Well, now they can and they will!
The Job
Assembling and disassembling furniture is something that needs to be done with extreme care. If not done properly, not only does it destroy the furniture, you will also end up with damage that's worth a lot of money. There is certain equipment that you'll be needing to pack and move the furniture the right way. First Class Moving and Storage has the right equipment for all kinds of jobs. Your furniture will be well taken care of. The assembling and disassembling will be done by professional employees with more than enough experience in the field.
The furniture that has been carefully disassembled, will be reassembled with just as much care by our professionals once it has reached its destination.
There will be no surprises so you can rest easy knowing that your furniture is in good hands. Making a change, especially a change as big as moving to a different place is a big deal. There are more important things that you should be concerned about other than furniture.
What kinds of furniture do we take care of?
To make things easier for you, we take care of all the big things as well as the small things. Every piece of furniture will be treated with the attention and care that it requires. You won't even find any trace of moving once all the furniture has been reassembled by the movers at your new place.
We take care of:
Closets, cabinets, and cupboards of all shapes and sizes.
Kitchen units ranging from sinks to hanging kitchens.
All kinds of beds (three-seater sofas, two-seater sofa beds, single beds, twin beds, couches, armchairs, corner sofa beds etc.)
Night tables, chairs, tables, and computer desks
Office furniture for when your company is relocating.
And that's just the beginning. If you want something transported that's not listed above, don't hesitate to contact us. There are different price plans available for every job and we are open for discussion. Get a quote today, visit the company First Class Moving and Storage located at Central Florida, Orlando (but we move coast-to-coast – residential and commercial) and the website https://movingwithclass.com for more details about the range. You will not be disappointed with our services.
Moving to or out of the Central, South or Northern Florida | Orlando area? Get a FREE Moving Quote! Call 800-297-6683.