Tampa, FL Moving Company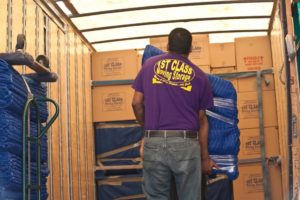 If you have decided to move, hiring a reliable mover for your most prized possessions may seem like an overwhelming task. However, the experience need not be so stressful at all. With a little extra research and planning, you can avoid moving scams and make shifting, an uncomplicated and hassle-free experience. There are a few things that you should keep in mind before hiring a moving company to take care of your long distance move.
History and track record of the business
A company with a good experience and track record is always a safer bet than a relatively new establishment. The sole reason for the survival of a company for decades is the sustained quality of service it has been providing to its customers ever since its inception. Such movers are well aware of the customer requirements and expectations and have been able to deliver on them successfully without fail.
License and insurance
Make sure that the movers are both licensed as well as insured. For moving cargo across state boundaries, the company should have a US DOT number which is a unique registration number allotted by the US Department of Transportation. Also, check whether the company is insured or not, as it is critical to the monetary safety of your belongings.
Recognition and reviews
A company that has won accolades and letters of recommendation is sure to offer you an award winning service too. Consumer reviews are a testimony to the kind of service that the company provides. A positive review amounts to appreciation of the company services and is a great parameter to judge whether it is good enough for you or not.
Moving scams
Look for reputable companies that adhere to the federal regulations requiring an in-home estimate. Avoid over-the-phone price estimates without a visual survey by the movers themselves. A fraudulent mover might initially quote a low price estimate and later on, incorporate extra hidden charges, making the final bill exorbitant. You need to be extra cautious while reading the contract and all the extra charges applicable such as fuel costs. Ask more relevant questions, just to be on the safer side and knowing the correct valuation of the process as a whole. Remember, that a well known and reliable company, which has a reputation to maintain, will never make you compensate for any hidden charges that are not stated initially.
With the ever increasing moving scams in the country, shifting your personal belongings and valuables comes with its fair share of risks involved. Rogue operations allure the customers by quoting low initial estimates and then holding back the cargo until they receive the additional payments. However, a sound background study about the options available in your state can help you hire genuine and trustworthy professionals that would handle your belongings with utmost care and concern.
If you are looking for movers in Tampa, Florida, you may check out the Moving You With Class for rapid and reliable moving services.
Moving to or out of the Central Florida | Orlando area? Get a FREE Moving Quote!