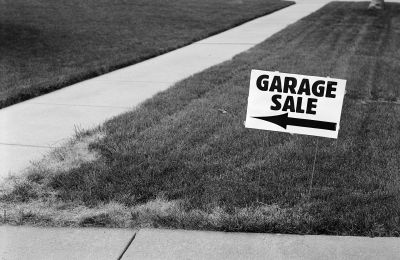 Before any move, you have to pack your stuff. And it's almost a given that you're going to realize something as you go: you have so much stuff! There are plenty of ways to get rid of some before you start your pack, and one way is to hold a good ole-fashioned garage sale. Why do this? For one, you can make a little bit of money off of your old belongings, and you can easily sort through what you have and decide what's worth keeping and bringing with you.
To make sure that your garage sale is successful, take a look at these tips:
First thing to look into is how your local municipality does garage sales. Most cities around Orlando require you to get a permit and follow specific rules if you're going to hold a garage sale.
Pick a weekend as it's more likely potential buyers will have time to come out; if you can do both Saturday and Sunday, even better! Also, try to check on the weather. Here in Florida, it goes from sunny to rainy in a blink of an eye.
Find some good public places to put up notices of your garage sale. In the age of the internet, there are plenty of public forums, but you'll have to be careful about who comes by. "Old school" methods include community bulletin boards at churches and grocery stores. Put them up a day or two in advance so folks have enough time to make plans to swing by.
The Golden Rule for garage sales is "Anything goes." No idea if anyone will buy it? Just put it out there. You'd be amazed the crazy things people will take off of your hands.
Consider where you're moving to and whether you need to keep certain things. If you're moving from Baltimore to Orlando, you don't need a snow shovel. Same thing with your surfboard if you're moving to Chicago. You can also make a little bit more than just a couple bucks on items like those.
Make sure you price things realistically. If you bought a blouse that was in style five years ago, don't expect anyone to pay what you paid for it when it was new (or even half). You kind of have to check your ego. Don't get your feelings hurt if someone offers less than you'd prefer. Be happy you'll get rid of it.
Keep the setup organized. You want everyone to be able to browse easily and comfortably. If you have electronic items for sale, have them set up near an outlet or a power strip so they can be tested.
Lastly, and most importantly, keep your cash in a safe place. Only have enough on hand to make change and put the rest of it in the house. Also, don't accept checks unless you know the buyer very well.
If all goes well, you might make a nice little wad of cash. After the garage sale, if you still see you have stuff left, then take it all to a church or charitable organization. Some donations are tax-deductible, which is nice, and depending on the items, they might send a truck to take things away for you. And if that doesn't work out….there's always the trash.
No matter what route you take to declutter, it'll ultimately make moving a heck of a lot easier for you, and 1st Class Moving and Storage will still be there provide the best in moving services and products. Call today to get your free quote.